END OF LIFE
RETURN SCHEME
Our simple end of life pledge - if we've made it you can return it to us and we will minimise landfill in the reuse and recycling of everything we can. From that we will also plough back any savings made from reusing items and all money earned from recycling metals into planting even more trees and purchasing carbon offsets. We will provide the labour and equipment to do all of this safely here so you don't need to worry about how to take things apart for recycling where mixed materials are in any product. You simply pay the postage and we'll cover everything from there.
EXAMPLES
Some examples of the valuable items we can reuse to plant more trees
Neodymium Magnets
One of the most popular choices for name and promotional badge fittings
We need to make a special mention of name badge magnets which contain neodymium, a rare earth element. These magnets are the strongest permanent magnets commercially available, and this type are always used around the world for badge magnet fittings.

The fact is that it is essential we reuse and recycle as much neodymium as possible as neodymium magnets find many applications in modern energy technologies which are becoming increasingly important if we are to get to net zero carbon emissions. They are at the heart of many offshore wind turbine generator designs and are key to some types of electric vehicle motor and other high efficiency motors, such as in pumps and drives. A clean economy will be dependent on the availability of rare earth elements such as this. Currently there are trials in the UK for recycling neodymium but we're not there yet on a commercial scale.
To preserve and protect this resource as much as possible we will take back any of our name badge magnets as follows:

• You pay the postage to return them to us, they can be attached to badges or not and we will sort and sanitise them.
• Any magnets not perfect for reuse we will store until recycling is available, however long it takes
• For every 3 magnets we can reuse we will plant 1 tree – yes, 1 tree for every 3 magnets

Reusing and recycling neodymium magnets is important – please help us to reduce mining, sea shipping, landfill (recyclers do not want them yet) and at the same time do something positive for the planet.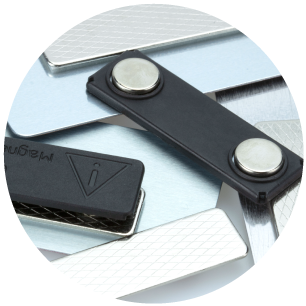 Metal Pillars, Spacers + Caps
Used on many plaque and award styles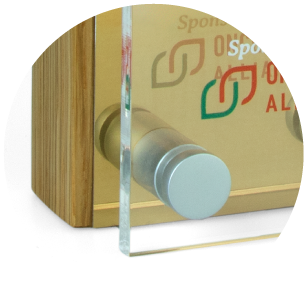 Whilst people are unlikely to discard awards, our combination plaques and some award types are often used for display purposes for a relatively short period and we can do good things by reusing the metal elements.
Often forming a reasonable part of the overall cost, they are unlikely to get damaged and so could be dismantled for reuse – and we can then also recycle any acrylic or aluminium printed parts as well. For every penny we save in reusing these items we will simply plant trees matching that saving on every item returned.
Plastic button badge parts
Used on 38mm + 55mm clip backs plus 75mm pin back button badges
Whilst our British made metal backed button badges are the most eco choice in the UK, sometimes a moulded component is necessary and that applies to our child safe clip back button badges and our largest pin back model. What's unique about us though is we want them back when you're finished with them.
By separating the front and back components we can ensure the metal cap goes for recycling and all backs in prime condition can actually be reused or if not then recycled.